RJ-11 Optical Transceiver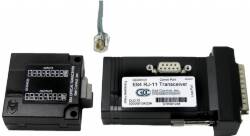 The next generation of optical transceiver has arrived with the introduction of GCI's RJ-11 Optical Transceiver. This fully SEMI compliant and Hokuyo compatible unit is the choice of leading 300mm FABs and equipment manufacturers throughout the world to simplify installation and maintenance of their E84 communications. It utilizes an error-free communications protocol between the electrical and optical interfaces to minimize the effects of external interference. Units include built-in Data Logging, and include GCI's industry leading diagnostic software, E84 Analysis Application.
Get Control's E84 Optical Transceiver (GCI04102) optically extends the parallel I/O communications associated with 300mm material handoff operations between active and passive entities.
SEMI® E84 compatible parallel input and output sections.
Meets SEMI® E15 interface sensor unit exclusion volume requirements for 300mm applications.
100% optical and mechanical compatibility with DMG-HB1, DMS-HB1 and DM-HB1 optical data transmission devices.
Status indicator LEDs for input, output, and go signals and optical transceiver power.
Higher quality and lower cost compared to competing products.
Documents
Related Products